Author:
Parkinsons Recovery
Dr. Ohhira's Professional formula is fermented for a full five years. This highly concentrated product rapidly enhanced pH in the stomach and digestive tract which helps the body strengthen its first line of immune defense. Greater levels of organic acids (such as lactic acid) result in an internal environment that is hospitable to all beneficial bacteria, including strains that are unique to the individual. Sustaining good bacteria in the gut is essential to digestive health.
Natural Pharmacist Ross Pelton, one of my expert guests on Parkinsons Recovery radio, recommends Dr. Ohhira's probiotics for persons with Parkinson's symptoms.
"I believe Dr. Ohhira's formula is the most
powerful probiotic formula available in the
world, and there are solid scientific studies that explain both how and why it is so effective."
Shipping is free to US destinations and $6.95 to all destinations outside the US.
One Month Supply
Free US Shipping
($69.95)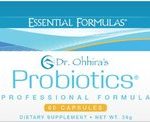 Dr. Ohhira's Probiotics (60 capsules) Professional Formula (Lasts 1 month when taking 2 capsules each day)


Two Months Supply
Free US Shipping
10% Discount
($126.95)
Dr. Ohhira's Probiotics (120 capsules) Professional Formula (Lasts 2 months when taking 2 capsules each day)

Three Months Supply
Free US Shipping
18% Discount
($172.95)
Dr. Ohhira's Probiotics (180 capsules Lasts 3 months)
Professional Formula